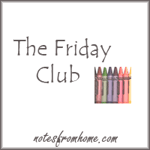 I did this last week, sort of, so I thought I'd do it again.
My favourite childhood memory is a bit tricky to pin down. There are the ones I, as an adult, approve most strongly of - my mother teaching me hopscotch using chalk on the kitchen quarry tiles, and a shoe-polish tin full of dirt; watching my mother dig a drain outside the house to reduce the damp in the downstairs bedroom; times she made us feel special and cared-for when we were ill or she chose something just for us because she knew us well. But those somehow don't quite cut it.
What actually does, what lives like a memory and is called to mind involuntarily and makes me happy and excited and peaceful, is
a quality of weather
.
I don't have a very good vocabulary for weather, so this could be difficult.
There's a particular kind of morning - pretty early, definitely no later than 9:30 am - when it's not hot, and not wet, and I can hear birds (pigeons or seagulls work best). The air is kind of crisp and damp-smelling. There are clouds, but not ominous ones. It may or may not be misty. And I'm outdoors, whether urban or rural.
Those mornings are
exactly
like the ones from - if it's pigeons - holidays at my Nana's house, when we'd get up and eat cereals we never had at home, and then go out into the garden. And if it's seagulls, they're like mornings on Inis Mór, in my mother's house, when I'd get up (often before anyone else) and cook a huge pot of porridge and again eat and out, adventures and excitement and getting things done - so sometimes we'd get up to do work, not play, but it was satisfying and useful and enjoyable just the same, hauling seaweed or water or something, children working with adults.
So that kind of weather, those sorts of mornings, fill me with energy and a sense of safety and anticipation.
The light was never right for the years I lived in London, though. It's pretty often right where we live now.
---
Here are the other entries in this carnival:
My Friend Next Door
from QWERTY Mum.
My Mum was the best storyteller
from Baby Budgeting.
A Favourite Childhood Memory
from Patch of Puddles.
Domino Trails
from Mummy From The Heart.
Freedom
from Live Otherwise.
A Favourite Childhood Memory
from The Gingerbread House.
Birthday Memories
from The Diary of a Frugal Family.
Please Turn Over
from Bibsey.
Not Tonight Josephine
from Cheeky Wipes.
Freedom
from Little Legends.
A Favourite Childhood Memory
from Who Teaches Whom.
Holidays
from Seasider In The City.
Making Paper Boats
from Red Ted Art.
Remembering a Fishpond
from Mymumdom.
Canada
from South of the River Mum.
Goodbyes
from Notes From Home.